The Grill at Entrada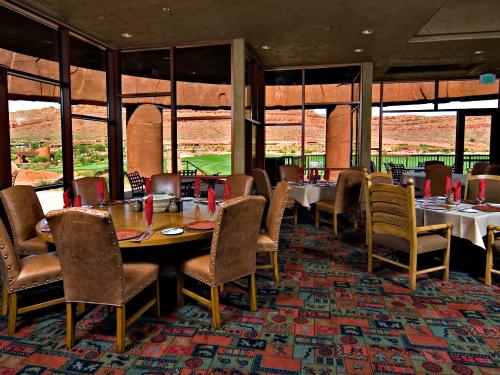 The Grille at Entrada, overlooking the Johnny Miller signature golf course located on the upper level of our award winning clubhouse, is sure to astonish anyone who visits, with its panoramic views of red rock cliffs, snow canyon and emerald fairways. Whether it's to watch a game on one of large TVs, have a casual lunch with friends or have a refreshing drink at the bar - there is something for everyone to enjoy!
Hours of Operation
Please verify restaurant hours with Guest Services at 435-634-7100. Hours vary by season.
The Grille at Entrada
Carryout only
Tue - Sat 11-8
Menus
Dress Code
*The Grill at Entrada Dress Code:
Appropriate country club attire is required throughout the public areas of the clubhouse including the Kokopelli Restaurant and Lounge, lobby, meeting rooms and golf shop. Any attire that is permitted on the golf course is permitted in the clubhouse.
The following items are also acceptable:
Blue denim fabric (provided that the denim is not bib-style, tattered, frayed, excessively baggy or stained) in the Entrada clubhouse any time except after 5:00 p.m. on Fridays, Saturdays and on special occasions specified by the club
Blue denim fabric is allowed in the grille/bar area and Prince Dining Room any day of the week.
Shoes or dress sandals are required.
The following items are not acceptable:
Tank tops, midriff tops, tee shirts and fishnet tops
Cut-offs
Sweat pants
Bathing suits
Beach-style flip-flop sandals
Men's hats, caps, and visors will be removed when using the Kokopelli Restaurant and Lounge.